Report by Jim Collura, NEFI Vice President & Director of Government Affairs (jim.collura@nefi.com)
Link to Original Article –  NEFI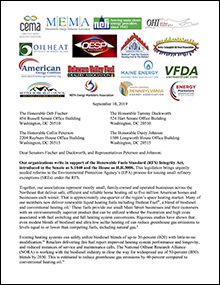 Heating oil associations are rallying in support of legislation to reform the way the U.S. Environmental Protection Agency (EPA) issues waivers under the Renewable Fuel Standard (RFS). These small refinery exemptions (SREs) were intended for petroleum refineries that produce less than 75,000 barrels per day and experience hardship due to blending obligations under the RFS. The EPA has dramatically expanded use of SREs in recent years, which has harmed the competitiveness of biodiesel and, as a result, Bioheat® Fuel.
The total number of SREs has increased from 7 in 2015 to a total of 85 between 2016 and 2018. According to economist Scott Irwin of the University of Illinois, while all biofuels are impacted by the increase in waivers, most of the demand destruction is falling on U.S. biodiesel producers. Dr. Irwin estimates economic damages totaling $7.7 billion, or 2.54 billion gallons of biomass-based diesel. Combined with the delayed extension of the biodiesel tax credit, SREs have resulted in all-time low values for biofuel trading credits under the RFS.
This development is important to the heating oil industry, which plans to transition to higher blends of biodiesel and other advanced biofuels in the coming years. The "Springfield Resolution" passed unanimously at the NEFI meeting in June calls for 50% (B50) blends to help achieve a 50% reduction in greenhouse gas emissions by 2030 and, ultimately, net-zero-carbon renewable liquid heating fuels by 2050. This, of course, is in response to aggressive "decarbonization" initiatives that have gained traction throughout the Northeast.
The heating oil industry are expressing these concerns, along with support for the RFS Integrity Act, in a letter to Congress. "The economic harm being done to the biodiesel industry threatens to decrease overall use of renewable fuels, increase greenhouse gas emissions, reduce consumer choice, and diminish competitiveness for our small family businesses," the industry letter states. The letter, expected to be sent to Congress later today, is signed by NEFI and nearly every heating oil association in the Northeast as well as the American Energy Coalition (AEC) and the National Association of Oil & Energy Service Professionals (OESP).
If enacted, the RFS Integrity Act would establish a deadline for small refineries to petition for hardship waivers. The deadline (June 1 of each year) ensures that EPA can properly account for exempted gallons in the annual volume requirements that it sets each November. The bill also increases transparency to ensure the public is informed of the justifications for each SRE and requires the EPA to report to Congress on the methodology used. Currently the process occurs behind closed doors with little to no congressional oversight.